15% OFF ANY CASE OF WINE.
────────────
HOLIDAY DISCOVERY PACK
PAIRS WELL WITH HOLIDAY PARTIES
WESTWARD - PINOT NOIR
Notes of tart cherry, pine needle, and forest floor. A five-o-clock shadow of tannin is anything but overbearing, impeccably balanced by classic cool climate acidity and a kiss of oak.
SUMMER RAIN - PINOT NOIR ROSÉ
The palate is delightfully crispy, with flavours of ruby red grapefruit, crunchy rhubarb, and a subtle hit of spicy radish.
THE CAPE - CHARDONNAY
A sprinkle of crunchy honeycomb and a fascinating note of freshly churned rum raisin ice cream round out the palate, then finished off with bright acidity and a touch of sea salt.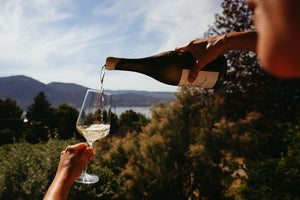 With a gentle pour, a stream of liquid gold glistens in the sunlight.
────────────
LIMITED RELEASE
OUR RED WINES
────────────
LIMITED RELEASE
OUR WHITE WINES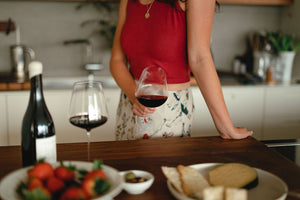 Anticipating the knock, excitement and nerves blend as I await my best friend's arrival.
────────────
OUR STORY
A STORY OF HOPE IN EVERY BOTTLE
Each bottle of our wine reveals an important moment in our lives on the label. Moments of romance, pain, humour, and whimsy.
A small vineyard, small winery, and small tight-knit team, making wines in a style we love to drink. Pure, honest, and reflective of our terroir.